Officiella Resultat 2008


Norsk Vinnare 08 i Hamar 23/11


Domare: Patti Widick Neale, USA

Ökl: 1:1 CK Btkl: 1 Cert, Cacib, BIM
Norsk Champion
Norsk Vinnare 08

Bedömningsutlåtande:

Full size bitch, exellent proprtions, pleasing head, dark eyes but slightty round, good coat, bone and substance, moves well coming but very weak in rera, LOVELY TYPE!


Kongsvinger Int. Norge 4/10

Domare: Hassi Assenmacher Feyel, Tyskland

Ökl: 1:2

Bedömningsutlåtande:

Good size, fem head, good expression, dark eyes and black eye ring, good ear carrige, well built body, nice in all parts, behind movement a bit cow walked, exellent coat, nice temperament.

Nationell i Norrköping 17/8


Domare: Per Svarstad, Sverige

Chkl: 1:1 CK Btkl: 1 ,BIR

Bedömningsutlåtande:
Utmärkt typ och storlek, Mycket vacker helhet, utmärkt femenint huvud, Bra uttryck, välpigmenterad, vacker överlinje, vackert rundat kors, utmärk nedsänkt bröstkorg, bra kropp, utmärkt benstomme, utmärkta rörelser, vacker päls, Utmärkt visad, Trevlig helhet

OBS!
I BIG så blev Dajka uttagen och blev en av de 8 bästa!



Internationell i Nyköping 16/8


Domare: Rony Doedijns, Nederländerna

Chkl: 1:1 CK Btkl: 1 ,CACIB, BIR

Bedömnigsutlåtande:
Correct size and proportions, sufficient bone and substance, lovely head and expression with very strong pigmentation, correct front and feet, sufficient ? chest, correct topline, movments from behind needs to be stronger at the moment not parrallell and needs to develope more drive, movments no´t her strongest point, nice coat quality and nice temperament.



SBHK Norje Boke 3/8

Domare:Zsolt Lokodi, Rumänien

Chkl: 1:2 CK Btkl: 3

Bedömningsutlåtande:
Beatiful nice head exellent dark eyes, korrekt bite, good topline, good sholder, littel open back angels whit low propotions.



Kuvasz Specialen Norje Boke 2/8


Domare: András Kovács, Ungern

Chkl:1 CK Btkl:1 BIR & BIS

Bedömningsutlåtande:
About 68 cm high, Nice head, correct very strong teeth, great lips& pigmentation, Dark eyes, good ears, Nice white coat, Good body & tail, good legs & moves.

BIR Grattis




KUR i Norge 12/7


Domare: Hudak Peter

Ökl 1:2 Ck Btk 2

Bedömningsutlåtande:
2 years well prop female head corr ear setting, pigmetation good, corr bite, topline corr, chestcorr deep eough, hair corr.


World Dog Show 4/7




Domare: Hassi Assenmacher Feyel, Tyskland

Exellent Ökl: 1

Bedömningsutlåtande:
Good size, fem. head, dark almond eyes, blak eyes rings, nice pigmentation, good ear carrage, typical expression, well buil body only a bit long feet, goo mover, nice coat and temperament


World Dog Show Circuit 5/7
SBHK

Domare: Attila Soos, Ungern

Exellent 3

Bedömningsutlåtande:
very nice bitch, very nice and typical face, beautiful topline, correct tail, good drive in the movement but a bit close from behind.


Borås 28/6


Domare: Mr Whitney Coombs, USA

Chkl: 1:1 CK Btkl: 1 BIR

Bedömningsutlåtande:
She is lovely and very correct, good rectangular body shape. prop. head. lovely dark pigment, good ear site, topline very strong whit a good set on foot. moves well. I wish she would not toe out in the rear, Very Nice



Internationell i Norrköping 1/6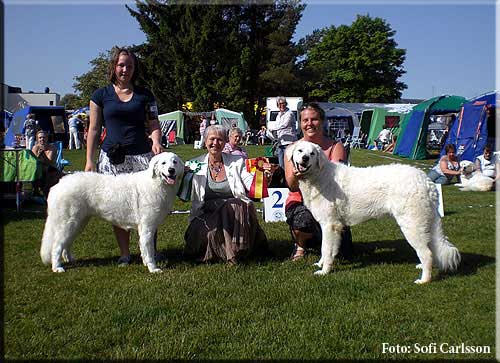 Domare: Rita Kadike-Skadina, Lettland

Ökl: 1:1 CK Btkl: 1 Cert BIM CACIB
CHAMPION!

Bedömningsutlåtande:
Strong female, good propotionscondition, fem. head, good topline, strong enough back correct tail, littel narrow in front could be stronger in elbows, medium angulated, could be better movment behind, too closed hocks, good coat.



Kinnekulle 25/5


Domare: Gert Christiansen, Danmark

Ökl: 1:1 Ck Btkl: 2 Cert

Bedömningsutlåtande:
Nästan 2 år, bra storlek, bra fem. huvud, saxbett, bra nosparti, mörka ögon, välansatta öron, bra hals och överlinje, bra kors, välutvecklad kropp, välvinklad fram, tillräkligt vinklad bak, lite mjuk i mellanhanden, bra benstomme, rör sig bra, bra päls och bra temp.